Main features are a 300 MHz processor; the Dreambox DM7025+ supports the Linux TV API
10/100MBit compatible Ethernet Interface
Twin-Tuner DVB-S, DVB-C or DVB-T
plug & play, mixable
big size OLED display
Technical Features
300 MHz MIPS Processor
Enigma 2, Linux Operating System
big-size OLED - Display
MPEG-2 Hardware decoding, DVB-S
TWIN Tuner, mixable, Plug&Play
Tuner: DVB-S, DVB-C und DVB-T, pluggable
1 x DVB Common-Interface Slot
2 x Smartcard-Reader (Dreamcrypt CA)
V.24/RS232 Interface
Integrated Compact Flash Slot
10/100 MBit compatible Ethernet Interface
1 x USB
S/PDIF Interface for digital bit stream out (AC-3)
2 x Scart-interfaces
RF modulator
Audio/Video cinch out
32 MByte Flash, 128 MByte RAM
integrated IDE Interface
Support for internal IDE HDD 3,5 inch in any capacity
unlimited channel lists for TV/Radio
channel-change time < 1 second
automatic service scan
directly bouquet-lists
EPG (electronic program guide)
Videotext Decoder
multiple LNB-Switching control (DiSEqC)
OSD in many languages and skin-support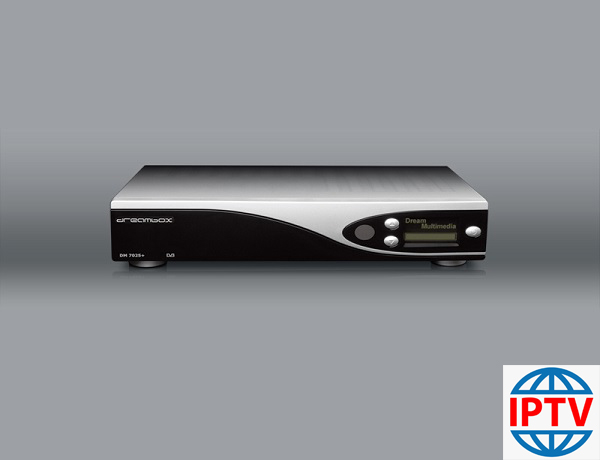 Setup IPTV using XtreamTV plugin in Enigma 2
Install IPTV via autoscript bouquet list on Enigma2
Flashing a new firmware (image)
Flashing a new firmware with Browser
Flashing a new firmware with DreamUp
Firmware / Image
(PDF – English, for Release from 25.10.2007)
User manual for OLED-Upgrade-Kit modification
(PDF – English from 08.11.2007)
Flash firmware (Image):
… aren't that easy anymore. Because NAND flash can contain bad sectors, everything is getting a bit more complex. We introduced a special format called "nfi", which contains a header (and possibly a CRC) and 3 different partitions: (loader, boot, root).
You can flash this either with the bootloader directly (using a special HTTP client or using a browser), or using a special version of Dreamup.
If you don't have a network or trashed your second stage loader, you can flash using only a serial cable.
DreamBox DM7025+ technical data
DBS-Tuner:
Frequency Range 950 … 2150 MHz
Signal Level – 65 dBm … – 25 dBm
Signal-to-Noise Level 12 dB max.
DBS-Tuner Input Connector F-Type female
Input Impedance 75 Ohm
AFC +/- 3 MHz
Demodulation Shaped QPSK
FEC Viterbi and Reed-Solomon
Viterbirate 1/2, 2/3, 3/4, 5/6, 7/8
Roll-off Factor 35 %
Demultiplexing according ISO 13818-1
Common-Interface:
Common-Interface Power Consumption max. 0,3A/5V
Video decoder:
Video Compression MPEG-2 and MPEG-1 compatible
Video Standard PAL G/ 25 Hz, NTSC
Video Formats 4:3 / 16:9
Letterbox for 4:3 TV-Device
Audio decoder:
Audiokompression MPEG-1 & MPEG-2 Layer I and II, MP3
Audio Mode Dual (main/sub), Stereo
Frequency: 32 kHz, 44.1 kHz, 48 kHz, 16 kHz, 22.05 kHz, 24 kHz
Output analog:
Output Level L/R 0,5 Vss on 600 Ohm
THD > 60 dB (1 kHz)
Crosstalk < -65 dB
Output digital:
Output Level 0,5 Vss on 75 Ohm
Sampled Data Filtering 32 kHz, 44.1 kHz, 48 kHz
S/PDIF-Output optical (AC3)
Video parameter:
Input Level FBAS 1 Vss +/- 0.3 dB on 75 Ohm
Teletext filter in conformity with ETS 300 472 Standard
TV-Scart:
Output: FBAS, RGB, S-Video
VCR-Scart:
FBAS
Serielle Interface RS 232:
Typ RS232 bidirectional
Bitrate 115,2 kBit/s max.
Plug Connector SUB-D-9
Function: Update of Firmware
Ethernet:
10/100 MBit compatible interface
Function: Update of Firmware
USB:
USB 1.1 connector
UDMA100 IDE Interface:
for internal HDD
Compact Flash – Reader
LNB power and polarisation per tuner:
LNB Current 500mA max.; short-circuit-protected
LNB Voltage vertical < 14V no load, > 11,5V at 400mA
LNB Voltage horizontal < 20V no load, > 17,3V at 400mA
Count of active satellite position:
DiSEqC 1.0/1.1/1.2 and USALS (Rotor Control)
Power consumption:
< 30W (in operation, horizontal polarization / 400mA LNB current)
< 25W (in operation, no LNB)
< 10W (Deep-Standby-Mode)
Input voltage:
230V / 50 Hz alternating current +/- 15%
110V / 60 Hz alternating current +/- 15%
Physical specification:
Ambient Temperature +15°C…+35°C
Humidity < 80%
Size (W x D x H): 374 mm x 230 mm x 75 mm
Weight: 1,8 kg without HDD
Specifications
Hardware
Chipset
Processor 300 MHz MIPS Processor
Perfomance 128
RAM 32 MB
Flash Memory 128 MB
Interfaces
Interfaces 10/100 MBit compatible Ethernet Interface 1 x USB S/PDIF Interface for digital bit stream out (AC-3) 2 x Scart-interfaces
Audio & Video
Audio Codecs Audiokompression MPEG-1 & MPEG-2 Layer I and II, MP3 Audio Mode Dual (main/sub), Stereo Frequency: 32 kHz, 44.1 kHz, 48 kHz, 16 kHz, 22.05 kHz, 24 kHz